Here is an article about flight 1237 which supposedly was in sight of flight 11 on 9/11. The plane reportedly flew just below flight 11
US Air 1237...
US Airways Flight 1237 from Rochester was circling over Westchester County, waiting to land at La Guardia Airport, when the Boeing 737 suddenly began climbing steeply. The captain's voice came over the intercom. "There is a lockdown at the New York airports because of a hijacking," the captain said in measured tones. "An American Airlines 767 out of Boston that just flew over us, I regret to inform you, has just crashed into the World Trade Center. You can look out the right side of the plane and see the smoke." There were gasps. Then the passengers started talking, some to the person next to them, others to no one in particular. Shirley Dildane of Hammondsport, N.Y., said softly, "Well, I won't be having my meeting today." http://www.wardgriffin.com/sept11one.htm
Interestingly, this was a 737, and MANY reports of the first plane to hit the WTC were of a 737.
---
US Air was scheduled twice on sept 11th. Both flights were cancelled according to the BTS database.
---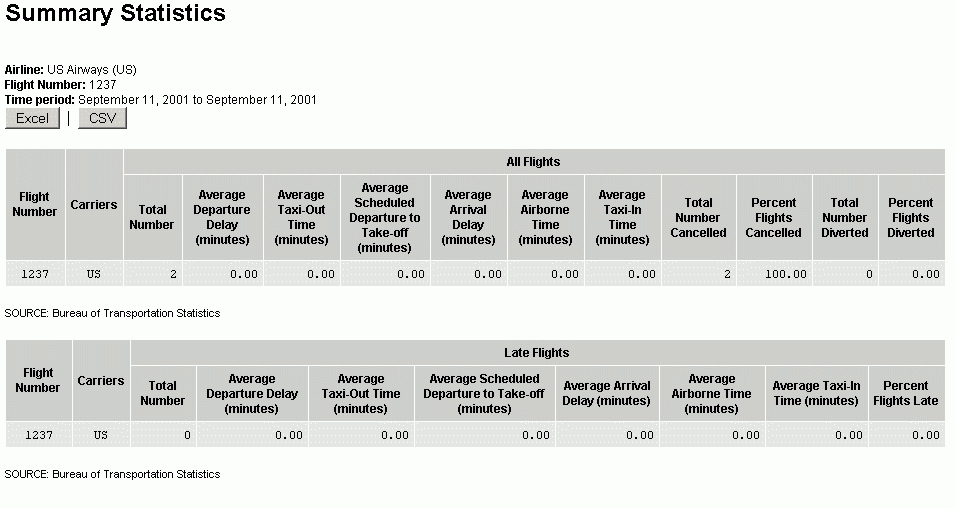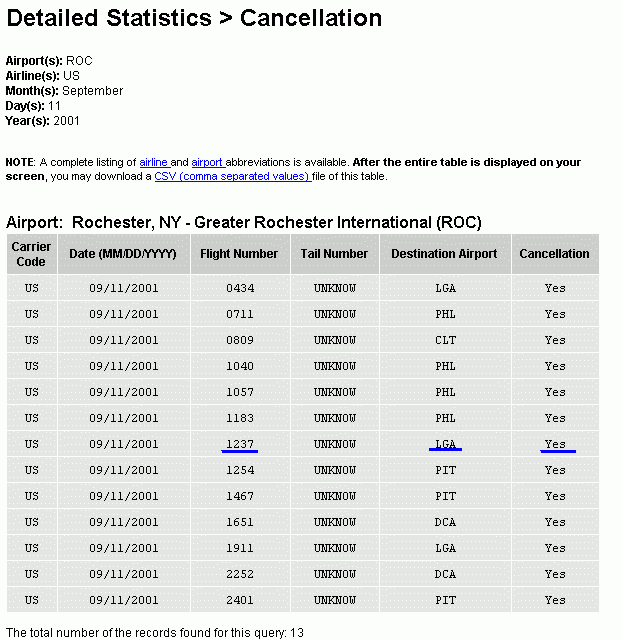 US 09/11/2001 1237 UNKNOW LGA 0:00

And suprise surprise............it never landed either!
US 09/11/2001 1237 UNKNOW ROC 0:00
Is it possible that other planes may have been involved in the Vigilant guardian excercise..........not necessarily to play the part of the hijacked plane....

....but to play the part of how a plane would react if it encountered a hijacked plane in it's flight path...................possibly like US Airways 1237.......
---
interesting articles from september 11 2001...

[31] September 05, 2001 Satellite News
VOLPE CENTER, DOT'S MINETA ON THE LINE IN KEY GPS STUDY
Global positioning and navigation industry-watchers, scientists and policy makers will be watching closely in the run-up to the Institute of Navigation (ION) annual tech conference in Salt Lake City September 11-14, as a much-anticipated and highly contro
airgames.bravehost.com/GPS.html

[41] September 05, 2001 TelecomWeb News Digest
Feds Frustrated With Poor Wireless, Web Security
WASHINGTON--In the wake of increased number cyber-attacks, the federal government is reevaluating its role in the development and use of technologies to protect it from breeches to its wireless and land-based networks, said speakers at the InfowarCon 2001

[46] September 05, 2001 Satellite Today
Harris Gets $222M Contract For Military Satellite Terminals
Harris Corp., of Melbourne, Fla., said yesterday it has won a $222 million production contract for 205 light-weight, multiband satellite terminals (LMSTs) for the U.S. military. The contract was awarded by the U.S. Army Communications-Electronics Command
[47] September 05, 2001 Satellite Today
BSS To Build, SeaLaunch To Launch Galaxy 13/Horozins 1
The newly established Horizons joint venture of PanAmSat Corp. [SPOT] and Japan's JSAT Corp. has awarded a contract for its new satellite, Galaxy 13/Horizons 1, to Boeing Satellite Systems (BSS), the El Segundo, Calif.-based unit of The Boeing Co. [BA]. A

[98] Sep 10, 2001 Satellite News
Boeing Wins Pact To Build Horizons Bird
PanAmSat Corp. [SPOT] and Japan's JSAT Corp. chose Boeing Satellite Systems (BSS) to build a new spacecraft for the Horizons joint venture recently announced by the two companies. BSS, a satellite manufacturer owned by The Boeing Company [BA], would buil

---
9/11 Homepage Airgames homepage