Bill Clinton holds court in White House after Barack Obama exits stage
Barack Obama passed the presidential baton to Bill Clinton to defend his tax cuts in the White House after admitting he was late for a Christmas party with his wife Michelle.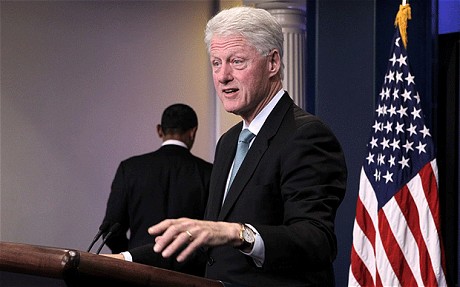 The Telegraph | December 11, 2010
By Philip Sherwell
For Bill Clinton, it was just like the old days. And for anyone tuning in to the live television coverage of the presidential press conference in the White House briefing room, it must have looked like a time warp.
The former president held court alone for half an hour in his old fiefdom after Barack Obama, the incumbent, said he had to leave the room as he was keeping his wife waiting for a Christmas party.
Despite their once glacial relationship, Mr Clinton had been asked to visit the White House to offer his support for Mr Obama's tax cut plans amid a growing revolt inside his own Democratic party.
He was also able to offer advice to Mr Obama on how to handle an emboldened Republican party in Congress after midterm electoral defeats for the Democrats just two years into a new administration.
White House aides had not initially scheduled the media event. But with the American political establishment focusing on a mutiny in Congress against Mr Obama's plans to extend tax cuts for the rich, the impromptu press conference was arranged so that the Democratic "big gun" could rally the troops.
But after a few opening comments, Mr Obama made clear he had to leave and excused himself, saying that his wife, Michelle, expected his presence at one of the many parties that presidents host during the month of December.
"I've been keeping the First Lady waiting," he said.
Mr Clinton, who clearly had some time on his hands, responded: "I don't want to make her mad. Please go."
He cheerfully remained at the podium in front of the White House logo and fielded questions as if he had never left office, even if he was promoting the policies of a successor.
"I don't believe there is a better deal out there," Mr Clinton said. "There's never a perfect bipartisan bill in the eyes of a partisan but ... this will be a significant net plus for the country."
He offered his thoughts on the economy, urged the passing of the stalled US-Russia nuclear treaty, discussed health care reform and also talked about Haiti – clearly revelling in the chance to shine on his old stomping ground.
Many Democrats are outraged that Mr Obama cut a deal with Republican leaders to extend Bush administration tax cuts for all Americans – despite consistently pledging to let them lapse for those earning more than $250,000.
In return, he secured an extension of payments for the long-term unemployed and reduction in Social Security payroll tax on employees. And Mr Clinton offered powerful political support for the compromise.
"In my opinion, this is a good bill and I hope that my fellow Democrats will support it," he said. "We all see this differently. But I really believe this will be a significant net plus for the country."