Congressman's $121,000 Payoff to Alleged Mistress
Tim Mahoney Elected to Remove 'Ethical Cloud' of His Disgraced Predecessor, Mark Foley
ABC News | October 13, 2008
By Emma Schwartz, Rhonda Schwartz, and Vic Walter
West Palm Beach Congressman Tim Mahoney (D-FL), whose predecessor resigned in the wake of a sex scandal, agreed to a $121,000 payment to a former mistress who worked on his staff and was threatening to sue him, according to current and former members of his staff who have been briefed on the settlement, which involved Mahoney and his campaign committee.
Mahoney, who is married, also promised the woman, Patricia Allen, a $50,000 a year job for two years at the agency that handles his campaign advertising, the staffers said.
A Mahoney spokesperson would not answer questions about the alleged affair or the settlement, but said Allen resigned of her own accord and "has not received any special payment from campaign funds."
Senior Democratic leaders in the House of Representatives, including Rep. Rahm Emanuel (D-IL), the chair of the Democratic Caucus, have been working with Mahoney to keep the matter from hurting his re-election campaign, the Mahoney staffers said.
A spokesperson for Emanuel denies that account, but said Emanuel did confront Mahoney "upon hearing a rumor" about an affair in 2007 and "told him he was in public life and had a responsibility to act accordingly." The spokesperson added that it was a "private conversation" that had nothing to do with Mahoney's re-election prospects.
Emanuel's spokesperson said Emanual had not had any further contacts with Mahoney on the subject and did not know the woman involved worked on Mahoney's Congressional staff until informed by ABC News.
Mahoney was elected two years ago following the abrupt resignation of his disgraced predecessor, Republican Mark Foley, whose lewd internet messages to teenage boys and Congressional pages created a national outrage.
The affair between Mahoney and Allen began, according to the current and former staffers, in 2006 when Mahoney was campaigning for Congress against Foley, promising "a world that is safer, more moral."
Broken Campaign Promises?
At the time, Mahoney's campaign ads featured a picture of him with his wife, Terry, with the line, "Restoring America's Values Begins at Home."
The staffers say Mahoney first met Allen at a campaign stop and later arranged for her to work as a volunteer on the campaign. Allen also appeared in a Mahoney campaign television commercial, criticizing his opponent.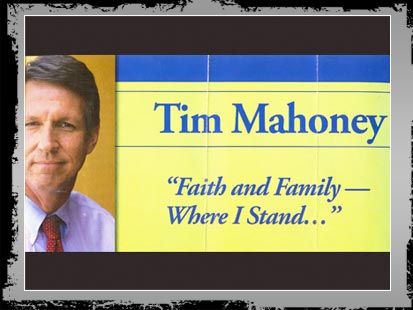 Following his election in 2006, Allen was hired, at taxpayers expense, to work on Mahoney's Congressional staff in Florida, at a yearly salary of $36,000.
After complaints about the affair circulated in Washington, Allen was moved to the campaign staff, the staffers say.
Friends of Allen told ABC News that Allen sought to break off the affair when she learned Mahoney was allegedly involved in other extra-marital relationships at the same time.
Her friends say she told them Mahoney threatened that ending the relationship could cost her the job.
"You work at my pleasure," Congressman Mahoney told Allen on a January 20, 2008 telephone call that was recorded and played for Mahoney staffers. ABC News was provided a copy. Click here to hear the tape.
"If you do the job that I think you should do, you get to keep your job. Whenever I don't feel like you're doing your job, then you lose your job," Mahoney can be heard telling Allen.
"And guess what? The only person that matters is guess who? Me. You understand that. That is how life really is. That is how it works," Mahoney says on the call.
"You're fired," Mahoney tells her. "Do you hear me? Don't tell me whether it's correct or not."
Allen says, "Tell me why else I'm fired."
"There is no why else," Mahoney responds.
Later, Allen says, "You're firing me for other reasons. You don't, you're not man enough to say it. So why don't you say it."
The portion of the tape provided to ABC News cuts off when the two begin a profanity-laced argument.
The Terms of the Settlement
After Allen was fired, the 50-year old single mother of two hired a lawyer, Gregory Coleman, and threatened to sue the Congressman for more than a million dollars.
Coleman, of the West Palm Beach firm Burman Critton Luttier & Coleman, also served as an attorney for former Congressman Foley. Calls to Coleman, and the lawyer for Mahoney, Gary Issacs, were not returned.
In a February letter to Mahoney, Coleman alleged sexual harassment, intimidation, humiliation and charged that the Congressman's behavior masked a "dark and depraved personality," according to people who have seen the letter.
Following a day-long mediation session in March, Mahoney agreed to a settlement, staffers said.
Mahoney reportedly insisted that Allen destroy all audio and video recordings of a sexual nature, they said.
Allen is also prohibited from working for Mahoney's opponent or any political candidate this election year, according to people familiar with the agreement.
In addition to the $61,000 payment, Mahoney agreed to pay $60,000 in legal fees to Allen's lawyer, they said.
The Former Mistress' Promise of a New Job?
The agreement between the Congressman and Allen, reportedly promises her a job for two years at Fletcher Rowley Chao Riddle or another company, beginning January 2009. Fletcher Rowley, a Nashville-based political consulting firm that offers "crisis management and creative strategy," lists Mahoney's 2006 election victory as one of its "success stories," according to its website.
The firm's CEO, Bill Fletcher, strongly denied any knowledge of the settlement or any promise of employment to Allen. "I know nothing of the like," he told ABC News. "There is no such agreement. There is no arrangement," Fletcher said.
According to Fletcher, all funds paid to his company by the Mahoney for Congress campaign were properly accounted for. "I've made no payments to any third party," he said.
According to people briefed on the settlement Allen was promised at least $50,000 a year or other employment if the Fletcher Rowley job fell through.
Friends of Allen say she was required to sign a back-dated letter of resignation to the campaign chairman, Charles Halloran, describing her departure as "amicable" and "nothing to do with you, the Congressman, the campaign, or any conduct by anyone associated with your congressional office of campaign."
A Mahoney campaign spokesman said, "Patricia Allen resigned of her own accord, in good standing."
The spokesman said there "was no sexual harassment suit filed against Congressman Mahoney."
Allen, reached at her home in Hobe Sound, said she was "unable" to comment publicly.
Her friends say her settlement agreement with Mahoney prohibits her from making "negative comments" about him.