Proof speed cameras exist to rake in money as receipts finally fall
Daily Mail | April 16, 2010
By James Slack
Motorists have been hit with speeding tickets worth almost £1billion under Labour, a report shows.
But receipts have fallen since police were stopped from keeping part of the money raised from speed cameras.
It suggests that the explosion in the number of cameras was used as a 'cash cow' and that forces no longer have an incentive to install them.
Drivers were clobbered with 1.23million tickets in 2008, of which 1.03million were issued by speed cameras, the Home Office report revealed.
The tickets raised more than £73million for the Treasury that year, or £200,000 a day. In total, 16million tickets have been issued since 1997, raising £913million.
In 2006, 1.63million tickets were issued by cameras.
The following year a rule change stopped so-called Safety Camera Partnerships - alliances of police and councils - from keeping some of the money.
The number then fell to 1.26million in 2007, and dropped again the next year. The number of cameras has increased from 1,935 in 2000 to about 6,000 today.
Critics said it was proof motorists had been treated as a cash cow. Claire Armstrong, cofounder of the Safe Speed campaign group, said: 'You should never measure safe driving by miles per hour.
'It is not going to be improved just by sticking up a few cameras and taking police off the roads and it does nothing for the relationship between the public and the police.'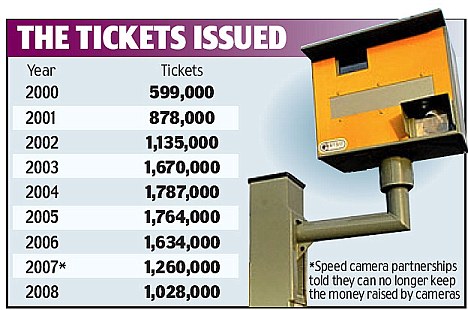 Jennifer Dunn, policy analyst at the TaxPayers' Alliance, said: 'Motorists have paid a fortune in speeding fines over the last decade and there is no real sign that the system has succeeded in changing people's behaviour.
'It is clear that speeding fines are more about raking in cash than making the roads safer, and as a result they have given the law a bad name.'
Labour also raised fines from £40 to £60.
The Government says the purpose of cameras is to save lives, not raise money. Road deaths fell to 2,943 in 2007, the lowest since records began in 1926.
The Department for Transport said that until 2007 police were allowed to keep some money from speeding tickets to recover the costs of operating cameras.